Relax and enjoy the summer while our team of professional, insured Lawn Care Specialists work hard to keep your lawn looking great. All lawns are typically serviced on a weekly basis.
Each mowing service includes:
Trimming of all lawn edges
Mowing all lawn areas (or as agreed by you, our customer)
Blowing clippings off all walkways, driveways and deck/patio areas on completion of mowing.
[table caption="PTS Lawn Care At-A-Glance Rates"]
Size|Acres|Sq Feet|Price
Small lawn|0 – .25|less than 10,000|$35.00
Medium Lawn|.25 – .50|10,000 – 20,000 |$45.00
Large Lawn|.50 – .75|20,000 – 30,000|$55.00
Extra Large Lawn|.75 – 1.0|30,000 – 40,000|$70.00[/table]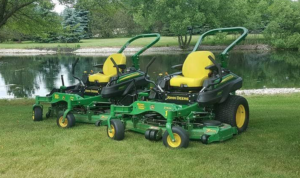 * Please add $10.00 to your service if your lot has a pool or a fence. Your fence must have an opening of at least 65″ for our equipment to pass through.
If you would like tree, shrub trimming and/or weeding of flowerbeds, spring or fall clean-up or any other yard work performed, an additional charge of $99.00/hour will apply for a team of two Lawn Care Specialists to attend to your yard. Simply call or email us to add additional services to your weekly service.
Bigger lawn or commercial lot? Please contact us at 414-305-9562 to obtain a free, hassle-free quote.
Stay snuggled by the fire while PTS braves the cold to handle even the toughest Wisconsin weather. Your snow will be cleared by a team of fully insured Specialists within 24 hours after the last flake of the storm falls. Service begins at 2″ of accumulation, after the snow has stopped.
Each snow removal service includes:
[table caption="PTS Snow Removal At-A-Glance Rates"]
Driveway Length|Width|Price
1-2 cars|1 car|$35.00
3-5 cars|2 cars|$45.00
6-8 cars|3 cars|$60.00
[/table]
* If your driveway is curved or branches outwardly, please add $15.00 to your rate.
* If you would like salt applied to your driveway, please add $16.00/50# bag to your rate.
Commercial and larger lots? Please contact us at 414-305-9562 for a free, hassle-free quote.