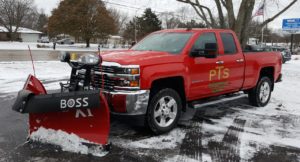 Regular Snow Removal Services – Lawn Care Customers Only
Stay warm inside while PTS braves the cold to handle even the toughest Wisconsin weather. Your snow will be cleared by a team of fully insured Specialists within 24 hours after the last flake of the storm falls. Service begins at 2″ of accumulation (1″ for commercial properties), after the snow has stopped.
Each snow removal service includes:
Sidewalk shoveling
Salting services ($20/per 50# salt applied)
VIP Priority Plow ($25 fee per plow)
PTS Snow Removal At-A-Glance Rates
Driveway Length – Width – Price
1-2 cars – 1 car – $45.00
3-5 cars – 2 cars – $45.00
6-8 cars – 3 cars – $70.00
* If your driveway is curved or branches outwardly, please add $15.00 to your rate.
Commercial and larger lots? Please contact us at 414-305-9562 for a free, hassle-free quote.
SECOND DAY Snow Removal
Due to the fact that we reserve all regular snow removal service for our lawn care and landscaping customers, PTS does not provide new quotes for snow removal. What we DO offer is our "SECOND DAY" plow service for customers who are able to wait until after our regular customers are served. We use a timed service process for all new plow service and salting service, at the rate of $199/hour (15 minute min.)
Here's how it works:
Your driveway will be plowed 6-24 hours AFTER THE END OF the snow event, after 2″ of snow accumulation. For example, if the last snowflake drops at 9am Monday, our SECOND DAY customers can expect their lot to be plowed between 3pm Monday and 9am Tuesday.
Your property must be located within the CITY OF WAUKESHA.
If staffing permits, we will make every attempt to clear sidewalks; however we are unable to guarantee shoveling will be provided.
If your driveway has already been plowed or shoveled by the time we arrive, you will be charged $20 for what we consider an "unproductive service call".
We will charge your credit card after each plow; therefore we do require the number on file in our office.
If you are interested in enjoying this hassle-free snow removal service, please call 414-305-9562 and let us know.  We will take your credit card and property address over the phone and then add you to our service schedule.