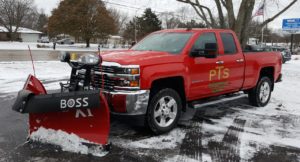 SECOND DAY Snow Removal
For folks who can wait until the day AFTER it snows.  We give our drivers a good night's sleep before heading out again into the cold air to take care of our Second Day Service customers.  Here's how it works:
* Snow removal is typically 24 hours after the last snowflake falls.
* The rate for service is $49, unless it takes the crew longer than 15 minutes, plus the fee for any salt used.
* Salt will be used if conditions warrant.  $20 per 50# of salt applied. This is left to the driver's discretion.
* Shoveling sidewalks is FREE, as long as staff is available & can complete in under 15 minutes. If the entire job takes longer than 15 minutes, you will be charged accordingly ($49 per 15 minutes)
* If the lot is cleared upon arrival (and you don't need service), PTS reserves the right to charge a $39 non-productive stop fee, to cover travel expenses for the lack of service.
* PTS will place you on our schedule for every snow event with 1-2″ accumulation.
* PTS reserves the right to refuse service if driveway is not marked or if driveway is too steep. Asphalt surfaces only.
* PTS will charge for service upon completion; therefore a credit card is required prior to service.  We will send a separate email requesting this information.
* Our PTS Customer Service line is open 24 hours/day during all snow events.  Call 414-305-9562 if you have any questions or concerns or need emergency service.
* Fill out the form below to sign up for SECOND DAY service. You will be directed to paypal to pay a $39.00 deposit which will go toward your first service.