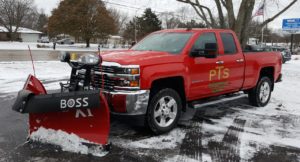 Regular Snow Removal Services – Lawn Care Customers Only
Stay warm inside while PTS braves the cold to handle even the toughest Wisconsin weather. Your snow will be cleared by a team of fully insured Specialists within 24 hours after the last flake of the storm falls. Service begins at 2″ of accumulation (1″ for commercial properties), after the snow has stopped.
Each snow removal service includes:
Sidewalk shoveling
Salting services ($20/per 50# salt applied)
VIP Priority Plow ($25 fee per plow)
PTS Snow Removal At-A-Glance Rates
Driveway Length – Width – Price
1-2 cars – 1 car – $45.00
3-5 cars – 2 cars – $45.00
6-8 cars – 3 cars – $70.00
* If your driveway is curved or branches outwardly, please add $15.00 to your rate.
Commercial and larger lots? Please contact us at 414-305-9562 for a free, hassle-free quote.
SECOND DAY Snow Removal
For folks who can wait until the day AFTER it snows.  We give our drivers a good night's sleep before heading out again into the cold air to take care of our Second Day Service customers.  Here's how it works:
* Snow removal typically 24 hours after the last snowflake falls.
* The rate for service is $69, unless it takes the crew longer than 15 minutes.
* Salt may be used if conditions warrant.  $20 per 50# of salt applied.
* Shoveling sidewalks is FREE, as long as staff is available & can complete in under 15 minutes.
* If the lot is cleared upon arrival (and you don't need service), PTS reserves the right to charge a $39 non-productive stop fee, to cover travel expenses for the lack of service.
* PTS will place you on our schedule for every snow event with 1-2″ accumulation.
* PTS will charge for service upon completion; therefore a credit card is required prior to service.  We will send a separate email requesting this information.
* Our PTS Customer Service line is open 24 hours/day during all snow events.  Call if you have any questions or concerns or need emergency service.
Only $69 for most residential customers. (20 min. max.)  Additional charge if it takes us longer.